Small-Scale Sprite Work by Laurel
Last updated: 26 February 2021
I am quite vain, so most of my art consists of small sprite self-portraits. For me this sprite work is a way for me to process my feelings during a given time of my life. But I am getting better at branching outside myself.
If you would like to commission some sprite art along these lines, please contact me via Discord: lauregami#7437.
1-Bit Self-Portrait (Apr 2019)


A 1-bit self-portrait that I use as my Twitch avatar to this day.
Joan (Sep 2019)


A 1-bit portrait of a friend of mine from my hometown. She introduced me to Screaming Females. I miss her.
Halloween 2019 Avatar (Sep 2019)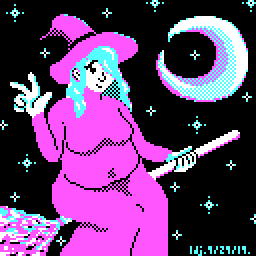 I started experimenting with CGA palettes around this time. I've grown to adore the default palette, showcased in this piece.
Little Star (Feb 2020)


This is the 1-bit piece of which I'm most proud. Right before COVID hit, I got the chance to visit Chicago with my partner. I found myself constantly longing to be with him in the city.
Phantasm/Halloween 2020 Avatar (Sep 2020)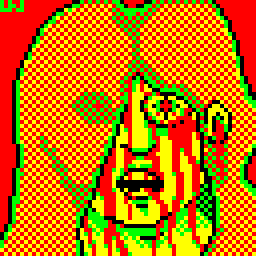 Done as an avatar around Halloween time last year. This was my first time experimenting with the red-yellow-green CGA palette. I quite like the way the colors play together, and I think the palette works quite well for a more "grotesque" feel along these lines. I may do a revised version where both sides of the hair are as wavy as each other.
Dot (Jan 2021)


CGA portrait of a friend's VTuber avatar. Dot streams games of all kinds with a focus on retro. Because of her experience as a translator as well as her tenacity in the face of all kinds of difficulty, she always brings an interesting perspective to what she plays. Check out her stream here!
Crystal Clear - Self-Sprite Template (orig. Oct 2020, updated Feb 2021)


This is the sprite I made for myself for a Pokemon romhack which I no longer give a platform because one of the people closely involved in the hack ended up being a white supremacist and a transphobe. I keep this up only as a record of the work I did making my own sprite sheet.
Bonus Non-Sprite Art!

This is a "self-portrait" of my fursona, a kangaroo. The drawing was done in MS Paint, and the background is a tutorial for folding a paper crane run through a bunch of filters in paint.net. I like how the background turned out; it reminds me of cherry blossoms.

Another picture of my fursona, to try and understand how I was feeling about the holidays during that time (Christmas 2020). I don't like engaging with the holidays at all. Even with this little drawing, I feel like it's sort of the other extreme of "liking" the holidays. It felt like I was operating in some kind of binary of interacting with the holiday season at all, and it just sort of cemented my dislike of engaging with the whole concept at all. That said, I did nurse plenty of whiskey last Christmas. I'm not proud of it, but the drawing is at least true to form.